This caption contest is over.


Go to new one and to see the results of this one!
http://bodgeybagels.blogspot.com/


Week 3 Bushwhacking around the US of A !
For Entry into Bodgey Bagel's Caption Contest Week 3
Leave your Caption for the Photo in the comments.
All entries must be in beforeWednesday 15th Nov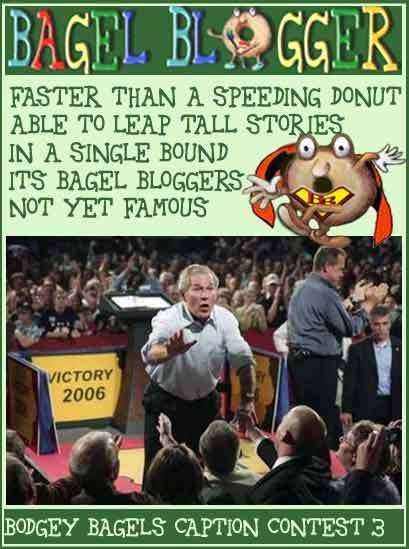 Caption away! Leave your entries in the comments section before Wednesday, November 15th.
May the best caption win!
The Winner of Last weeks Contest No 2:(8th Nov)

Last week
Bagelblogger
began a Weekly Photo Caption contest.
The 2nd Bodgey Bagel Caption Contest winner is.....Drum Roll

1st Place: Vait for it...Vait for it....
[ Cowboy Blob ]

2nd Place: psssst.....Anyone else feel uncomfortable about that cat being the President of our union?
[ Marsha ]

Tied for 3rd Place:

: Cat: "Oh, crap. I thought 'Shepherd Convention' meant there were going to be sheep! Sheep means wool. Wool means yarn. Yarn means fun. But dogs mean death."
[ N.B. Goldstein ]

: Cat: Yea, though I walk through the shadow of death.........
[ Elliot ] (no hyperlink)

Honorable Mentions:
: Dogs: How come our feet aren't moving?
Cat: Good thing I spilled that superglue!
[ muse ]

: Since the politically-correct crowd got "profiling" stopped, this country has really gone to the dogs !!!
[ Elaine ]

Bagel's Dishonourable Mention: You are all in your kennels for thought crimes! [BB]

I'd just like to say, I was really impressed with both the quantity and quality of entries. It made Judging them very hard!

Thanks for your entries! Bagelblogger

Other blogs with Caption Contests:
Outside the Beltway
RightLinx
The Clash Of Civilizations
Willisms
Commonwealth Conservative
Bullwinkle Blog
The Right Place
Bravozulu
The Gone Rick Motel
Blogmeister USA
Cowboy Blob
SgtStryker
Wizbang Blog


With Thanks to all those that entered

Bodgey Bagel's Caption Contest 3 Get those Captions in!!


: * Caption * Funny Caption * Funny Photo Caption * Caption Contest * Bodgey Bagels Caption Contest 2 * Bodgey Bagels Caption Contest 3 * Funny * Humor * Laugh * Captions Contest * Jew * Australia * Jewish * Bagel Blogger